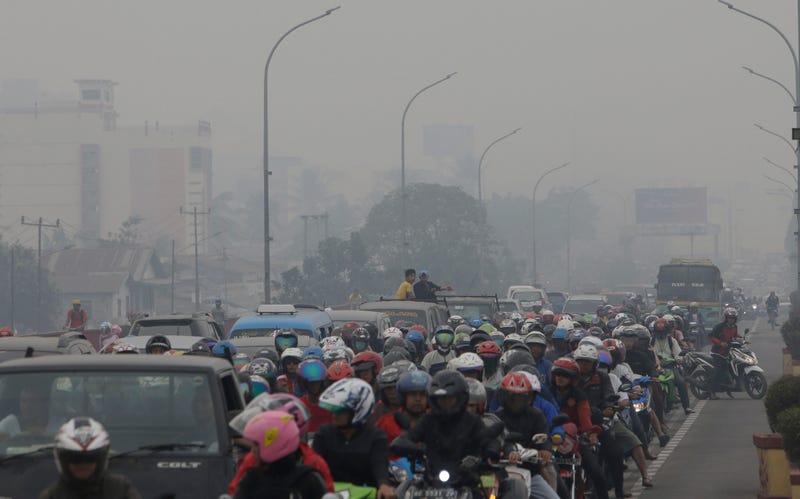 This time last year, tens of thousands of fires were raging across Indonesia's peat forests, spewing carbon like coal plants and sending smoke halfway around the planet. But those fires weren't just bad for our atmosphere: they were awful for the people who breathe it.
A new study out of Harvard and Columbia Universities estimates that the 2015 Indonesian fire season contributed to up to 100,000 premature deaths. To arrive at that depressing conclusion, researchers combined satellite data, field measurements and computer models on the human health impacts of air pollutants. The analysis, which has been accepted for publication in Environmental Research Letters, finds that wildfire smog may have played a role in 91,600 premature deaths in Indonesia, 6,500 in Malaysia, and 2,200 in Singapore.
It's no secret that air pollution is bad for us. The WHO considers it the single biggest public health menace, killing up to 5.5 million each year and threatening some 80 percent of all city dwellers. The most notorious smog-derived killer is a class of particles called PM 2.5, which can bury themselves deep inside human lungs, triggering everything from asthma to cardiovascular disease.
In this context, the results of the new study—which examined the impacts of PM 2.5 on adults—aren't all that surprising. But they may be quite conservative. As Nursyam Ibrahim, a doctor from the West Kalimantan province branch of the Indonesian Medical Association toldThe Guardian, it's infants and small children who are most vulnerable to air pollution's toxic effects.
One can only hope that such a staggering human toll serves a wakeup call that we need to do a better job preventing catastrophic, human-triggered fire seasons from developing. Indonesia was primed for this sort of disaster last year, after El Niño brought months of extreme drought to the country. But the government did little to stop farmers from setting light to their fields.
Inaction, we're learning, can have severe consequences.